Come cook with us!
Today we are inspired by the Italian cuisine, preparing a delicious and fresh salad with pan-grilled mozzarella. We adapted this traditional recipe slightly to the Thai cuisine.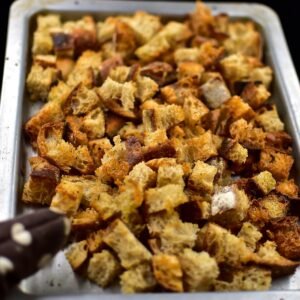 Ingredients (for 4 persons)
For the salad
1 sourdough or whole grain bread
2-3 large tomatoes
1 Japanese cucumber
1 red onion
1 yellow pepper
180g Swees Mozzarella
1 bunch sweet basil leaves
1 teaspoon oregano
For the dressing
3 tablespoons extra virgin olive oil
2 tablespoons coconut vinegar
1 tablespoon balsamic vinegar
1 clove minced garlic
1 teaspoon dried oregano
1 teaspoon dried thyme
1 teaspoon salt
some black ground pepper and paprika to taste
How to
Preheat the oven to 200° C.
Slice the bread into cubes and put on a baking tray. Drizzle some olive oil over it, add some salt, pepper, and oregano. Bake the bread for about 10-15min until golden and crispy.
Mix / whisk all the ingredients for the dressing together in a bowl.
Cut the tomatoes, cucumber and yellow pepper and add to the dressing.
Add the breadcrumbs to the bowl and give it a good stir. Let the breadcrumbs soak up the dressing.
Cut the Swees Mozzarella into cubes. Heat 1 spoon of olive oil in a pan and grill the Swees on both sides for about 1min. Add to the salad.
Give the salad another stir and garnish with fresh basil.