Our Story
The plant-based market has always been about mock meat. But, what about cheese? While a good meat replacer is important, a great-tasting non-dairy cheese is the actual missing piece for a well-rounded plant-based diet. For health-conscious people who are embarking on a plant-based diet or 90% of the Thai population, which is lactose intolerant, good quality plant-based cheese is essential.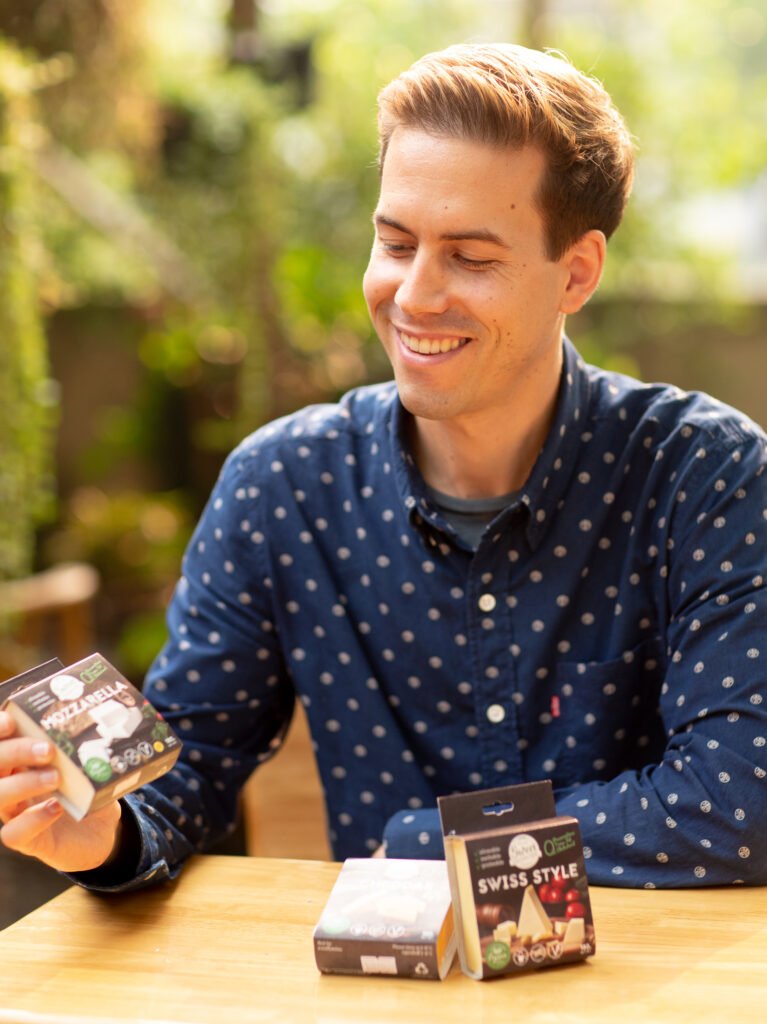 Nick, CEO and Founder of Swees, spent his first 20 years of his life in Switzerland, eating the most famous cheese in the world on a daily basis. But when he moved to Thailand, he suddenly discovered a whole new way of eating called "plant-based". Nick says, "Not eating meat was never a challenge for me, but cheese was hard!" Soon, he found out he was not the only one facing this trouble, and many others could relate. With a lot of passion and experience of working with food, he wanted to create what he wasn't able to find: a cheese that was pleasing to him in taste, texture and appearance, but didn't have any animal or artificial ingredients. In other words: A new era of cheese.
What started off as a hobby soon became a profession, as he, his wife and the newborn Swees team saw the demand for plant-based cheese soar in the Thai market. In 2020, during Asean's biggest annual food fair "Thaifex," Swees handed out over 6000 cheese samples in five days, receiving promising feedback and high interest. The hype was real, and in December 2020, Swees incorporated under "Swees Plant Based Foods Co., Ltd."
Only 2 years into business, Swees has established its name in the food business, serving restaurants, industry and retail customers all over the country. Nick sees a bright future ahead for the plant-based market in Thailand. What he observed in Europe about 10 years ago is happening now in Thailand at a very fast pace. The supermarket shelves for plant-based products are becoming bigger and bigger, symbolizing an unstoppable movement towards health and sustainability.
Discover a new era of cheese.
Swees Plant Based Foods Co., Ltd. (Incorporated 2019) is the leading producer of plant-based, vegan cheese in Thailand. Located in the rolling green hills of Chiang Mai, Swees has been crafting organic soy-based cheese since 2018. The mission at Swees is to craft high quality plant-based cheese that inspires every consumer to go vegan, while maintaining sustainable production practices.
Their approach to plant-based food is clear: It must be tasty enough to persuade and inspire consumers to stop eating animal products. This is accomplished through the careful use of healthy, organic ingredients and minimum processing. With Swiss expertise, Swees satisfies the tastes and needs of the rapidly growing health and environmentally-conscious public.
Founder Nicolas Frauenfelder has always been passionate in all of his pursuits. His early career was in banking and finance, yet he knew he wanted to pursue a creative path with unique products that would nourish and inspire others. Nick and his local team train and work vigorously to fulfil their vision of becoming Asia's most successful manufacturer of plant-based cheese.
Swees was the winner of Chiang Mai's pitching start-up contest in 2021, winner of Thailand's plant-based food awards later in 2021, and selected TOP innovative product at Thaifex-Anuga 2022.