If we think of mozzarella, most of us would think of pizza, yet there are so many other creative ways to use it. Today we show you how to use Swees Mozzarella to create an appetizer or a great party snack! A real crispy on the outside, soft and gooey on the inside cheese stick! It's very easy to prepare and will surely surprise and please all your friends when they come over for a game day or party!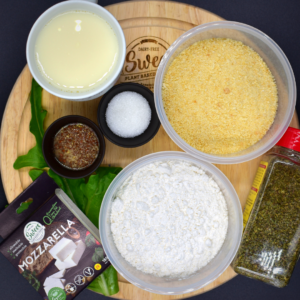 Ingredients
1 pack of Swees Mozzarella (180g)
100g All Purpose Flour
10g sugar
110 ml soy milk
1 teaspoon ground flax seed
1 tablespoon water
Bread crumbs
Oregano
Vegetable oil for frying
How to
– Soak 1 teaspoon ground flax seeds in 1 tablespoon water for about 5 – 10 minutes.
– Mix sugar, milk and flax seeds in water and add the all purpose flour. Stir well.
– Prepare bread crumbs mixed with oregano.
– Cut the mozzarella cheese into bite-sized sticks.
– Dip each piece of mozzarella cheese with flour and mix with bread crumbs.
– Set up a pot or pan for frying on the stove. Turn on to medium heat and wait until the oil is hot. Then fry the battered cheese sticks. Wait until the color of the cheese sticks turn yellow / gold-like. Put on a household paper.
– Arrange the fried cheese on a plate. Decorate with vegetables and eat with your sauce of choice. Eat hot, and enjoy the gooey, melty Swees texture. Enjoy trying and don't forget to take a picture and tag us.